Man nehme, einen Mercedes-Transporter aus den 80ern und packe diesen ordentlich voll mit allem Krims und Krams was man zum Zubereiten so braucht und fahre raus in die Welt um nachhaltig produzierte Speisen unters Volk zu bringen.
Wir schwingen gern die Hüften, zelebrieren den Umgang mit guten Nahrungsmitteln und sind gern hier und gern auch dort. 
August is like the Sunday of summer!
Von 05. August – 09. September suchen auch wir uns ein schattiges Plätzchen und ziehen uns in die Sommerpause zurück. Das Tagesgeschäft pausiert, doch zu ausgewählten Terminen und Veranstaltungen an den Wochenenden sind wir trotzdem zu finden.
Aktuelle Termine und Standorte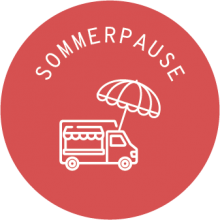 FC Ingolstadt 04 vs.
1.FC Nürnberg
Audi Sportpark, Ingolstadt
Ingolstadt Dukes vs.
Kirchdorf Wildcats
FC Ingolstadt 04 vs.
1.FC Nürnberg
Ingolstadt Dukes vs.
Munich Cowboys